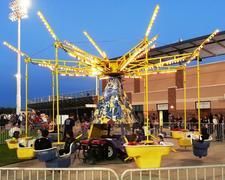 Mindwinder Carnival Ride
The Mindwinder carnival ride will spin up to 16 people at a time and is perfect for school carnivals, church festivals, and special events in Arizona. The Mindwinder carnival ride is a great choice in carnival rides for kids and family events that spin up to 16 kids or adults like a swing ride. You can spin the tubs like the tea cups at Disneyland as fast or as slow as they want as the ride turns around for a complete mind winding experience.
This mindwinder carnival ride will please teens and adults so it's perfect for carnivals, fairs, festivals, school or church carnivals, birthday parties or anything you can think of. This Mindwinder ride has real carnival lights and comes complete with its own generator so all we need is the space and you will be sure to have an awesome experience with this spinning carnival ride.
Please Call For Pricing And Availability
Space Required: 50' wide, 15' tall, 50 feet long