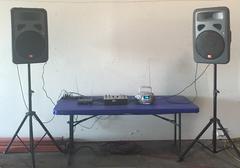 Public Address (PA) System
Need to address a big event? We have the PA System for you. Rental includes mixer, speakers, stands, microphones, one table and two chairs for 4 hours.
We rent components separately as well. Pricing is shown below:
$9.99 for 2 Tri-Pods
$39.00 for 2 Microphones
$15.00 for one DJ Table, two chairs, and table cover.